SOUP(er) Night receives amazing support!
Savory soups of many varieties, heaping salad bowls of greens and grains, and a smorgasbord of brownies and cookies made for a sumptuous feast for an appreciative crowd at last Saturday's first ever "Soup(er) Night for JUMP!" Active bidding at the "Silent Auction" and delicious deals at the "Bake Sale" helped the NEW Joint Urban Ministry Project (JUMP) event succeed in raising over $3,000!
All for a great cause as faith communities across the country are shrinking, so too is the base from which JUMP gets its support. JUMP must face this reality. In order to do so…JUMP needs to focus on what distinguishes and separates it from other social service agencies in Chittenden County: mobility and transportation assistance."
This does not mean that JUMP must stop providing the services that it has always provided. Nothing about that—or the relationships with faith communities -- must change. Rather, JUMP must, become more creative at raising more funding to support client transportation needs."
Focused on the Future, we hope the successful first ever SOUP(er) Night for JUMP becomes that creative new annual fundraising event.
JUMP is Soup(er) pleased by the large turnout of supporting faith communities, family and friends.
And equally, thrilled to be joined by Bishop Shannon MacVean-Brown, newly installed Bishop of the Episcopal Church in Vermont with her husband Phil and family.
There are many to thank for this fun, social event that did much to help JUMP assist people in need in our community.
Special thanks to:
- The First Unitarian Universalist Society of Burlington for hosting the event;
Tom Jones for playing the piano;
All who donated soups, salads, cookies and brownies – together creating a delicious feast;
All who donated items for our very successful Silent Auction;
Margaret Welch who was our Soup(er) Organizer;
Our corporate sponsors: Cabot Creamery Co-operative, the Olive Garden Restaurant, Trader Joe's and Shelburne Pond Studio artist: Katherine Stockman; and
Everyone who participated in this fun, fundraising, community-building evening for JUMP!
Photo Album Gallery Place Holder - Please wait while the Photo Album loads. If the album does not show, please refresh the page to try again.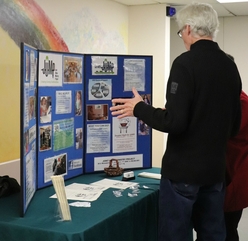 THANK YOU: Cathedral Church of St. Paul
"Transportation Assistance Drive"
named "Transportation Angel" for October
Cathedral Church of St. Paul's Transportation Assistance Drive results in church named "Transportation Angel" Sponsor for October. Empathized, the $2600 collection will sponsor all client transportation assistance for the month
This creative act of kindness was made possible by Cathedral Church of St. Paul parishioners who held a Transportation Assistance Drive for the entire month of September inviting members to contribute personal checks designated to help neighbors get to work, school, medical appts, grocery shopping, etc…
JUMP is especially grateful for this specific call to action to help clients where it is most needed -- with transportation assistance. Last year, Forty-four % served requested vouchers for transportation mobility support for a total of $31,686, with gas assistance alone costing $24,725.
While the traditional identified "basic needs" are food, shelter and clothing; in reality the minimum prioritized level of "basic needs" have moved to include transportation assistance, healthcare, education, sanitation, and internet. At JUMP the most prioritized level is transportation assistance.
JUMP therefore recognizes the importance of St. Paul's Transportation Assistance Drive, because, transportation assistance aids in poverty relief and workforce development as well as helping to head off homelessness. More so, because, the inability to afford basic needs, diminishes human dignity, resulting in lack of ability to participate effectively in society."
Wanda Hines; JUMP Director, "Thank you, Cathedral Church of St. Paul parishioners for your creative leadership example to help reduce transit costs for working poor, low income families and individuals in need."